Salthouse, Norfolk
Salthouse comes from the Old Norse and English for 'house for storing 'Salt'. Salt was once a very precious commodity and Salthouse lies on the salt marshes in an Area of Outstanding Natural Beauty. Seven hundred years ago there were more slat pans here than anywhere in Britain. The salt would be extracted by boiling and then packed into blocks for storing. Only the nobility of wealthy merchants would have been able to afford such a rare commodity.
Extract taken From 'The Peddars Way and Norfolk Coast Path'
by Stephen Browning and Daniel Tink
Visiting Salthouse
To do: If you would like to stay here for a while – and it is fantastically beautiful – you could arrange to take The Salthouse Sculpture Trail for ten miles around the village. It takes in birdwatching, wildlife, woodland and pubs. The Greater Spotted Woodpecker and exquisite dragonflies may be seen. As a special treat, you can take part of the trail – Holt to Kelling Heath Holt – on the North Norfolk Poppy Line: www.nnrailway.co.uk
Salthouse may not be very big but it has a thriving website to which potential visitors can address queries – www.salthousehistory.co.uk
Don't forget to try the delicous fresh local seafood.
Parking at Salthouse: Parking is available next to the beach. Drive down Beach Road from the Coast Road A149.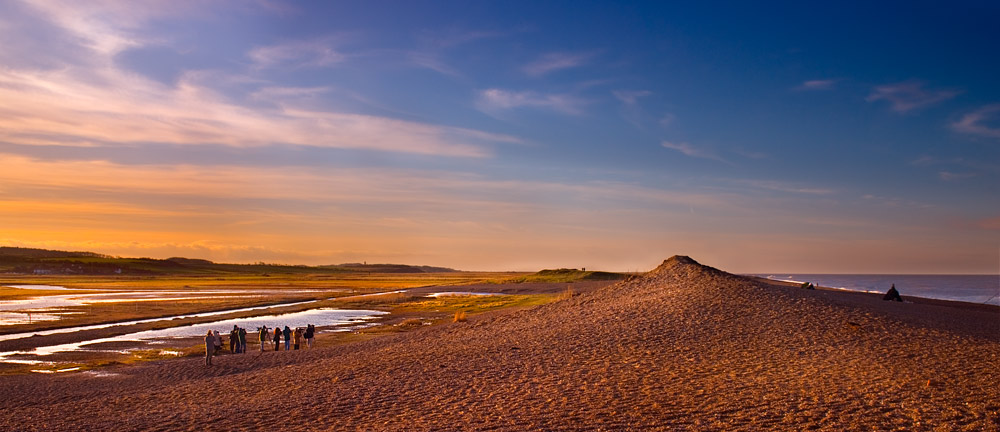 Photo copyright Daniel Tink © 2006-2015.  Terms and Conditions Apply
Plan your visit to Salthouse with this useful map. Explore the rest of Norfolk with the tourist Map of Norfolk