Photos of Holme next the Sea
Visiting Holme next the Sea
Holme-next-the-Sea, as it is officially known, is perfect for rambling with a good variety of footpaths marked through and along the village.
In 1965 the Holmes Dunes National Nature Reserve was created and now covers 550 acres. Apart from moths, butterflies and birds, the reserve is rich in plant life, including marsh orchid and sea lavenders. You can park next to the Holmes Dunes for a couple of pounds – there are a few 'free' places, too, for cars just off the road if you get there quickly enough!
As you wander over the dunes you will witness a quite extraordinary sight – soft golden sands extending almost as far as the eye can see into an ocean that extends to the horizon. Here there are pools and meandering stretches of water left by the tide as it recedes, sea plants in shades of yellow, soft purple, green and gold, and Waders, Avocets and Little Terns. High in the sky above, you may be lucky enough to see vast flocks flying in formation. Sometimes, you become aware of a sense of complete silence and, looking up, realise that although your eyes can see for miles in each direction, there is not another human being around.
Dogs are allowed into this walking paradise sometimes but please check before coming – there is a Visitors' Centre serving the reserve which is open every day from April to October and at weekends from November to March.
There is Bird Observatory – to view some of the 382 recorded species – with a warden and nature trail. At some times of year, you can spot enormous flocks of Brent Geese, Shore Waders, Chats, Greenshanks and sea birds.
Extract taken From 'The Peddars Way and Norfolk Coast Path'
by Stephen Browning and Daniel Tink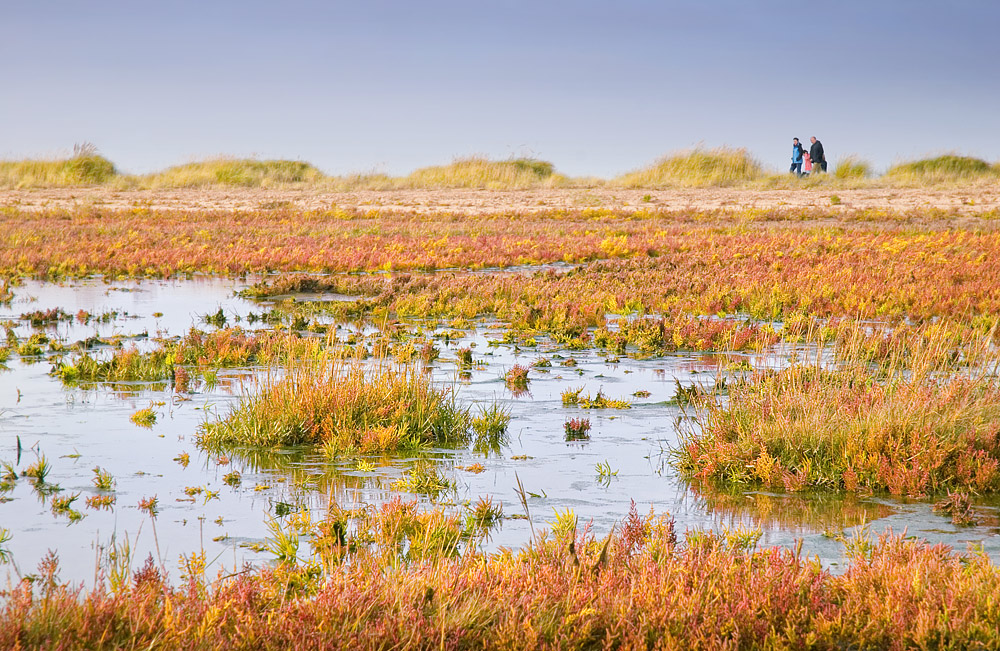 Photo copyright Daniel Tink © 2006-2015.  Terms and Conditions Apply
Plan your visit to Holme next the Sea with this useful map. Explore the rest of Norfolk with the tourist Map of Norfolk