Photos of Little Walsingham
Visiting Little Walsingham
'On our left we see Walsingham, an ancient town, famous for the old ruins of a monastery of note there, and the shrine of our lady, as noted as that of Sir Thomas-a-Becket at Canterbury, and for little else'
Daniel Defoe, Tour through the Eastern Counties, first published 1724. (New edition East Anglian Magazine Ltd 1949.)
Lady Richeldis has a vision
In a vision in 1061, Lady Richeldis, who owned Walsingham Manor, was transported to Nazareth by the Virgin Mary, shown the house where Jesus was born and told to build a replica in Walsingham. Thus she built a simple structure of wood and, afterwards, a priory was  also built.  It was really special. Erasmus visited in 1511 and  said : 'You will say it is the seat of the gods, so bright and shining as it is all over with jewels, gold and silver'.
Which is probably why Henry VIII plundered it in 1538. The Prior, one Richard Vowell, was complicit in handing over the treasures to Henry and destroying the structure, for which his 'forty pieces of silver' was a pension to the vast tune of 100 pounds a year. The Walsingham Lament, written at this time, comments like this:
Weepe, weepe, O Walsingham,
Whose dayes are nights,
Blessings turned to blasphemies,
Holy deeds to dispites.
Sinne is where our Ladye sate,
Heaven turned is to helle;
Satan sitthe where our Lord did swaye,
Walsingham O farewell!
For 300 years the site was left in ruins. However, in 1897 it was extensively restored and in 1931 a replica of Lady Richeldis' shrine was rebuilt. It immediately became, and remains, a place of pilgrimage for thousands. You can get here by steam railway from Wells-next-the-sea.
Extract taken From 'Norfolk – Exploring the Land of Wide Skies'
by Stephen Browning and Daniel Tink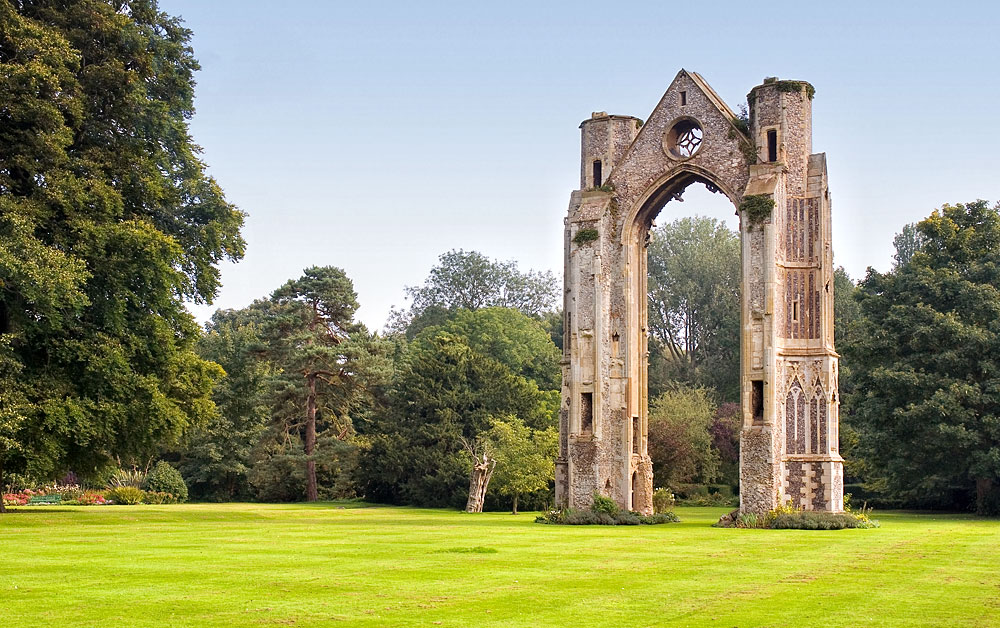 Photo copyright Daniel Tink © 2006-2015.  Terms and Conditions Apply
Plan your visit to Little Walsingham with this useful map. Explore the rest of Norfolk with the tourist Map of Norfolk