Plan your days out in Norfolk with this handy map
Visiting Norfolk couldn't be easier. Situated in the east of England, UK (East Anglia) Norfolk can be reached by car, train or air travel. Enjoy the use of this simple map of Norfolk, UK to help you plan your days out and discover the finest attractions Norfolk has to offer such as the magnificent Norfolk coast.
Norfolk transport information
Once you are in Norfolk you'll find an easy to use road network with major routes to and from the city of Norwich that branch out to the four main areas of Norfolk; The Broads (Broadland) situated to the East, Breckland to the West, The North Norfolk Coast and South Norfolk. Norwich railway station provides a great central location for arriving in Norfolk with train services to Sheringham on the North coast and Great Yarmouth on the East coast.
Norfolk has a great bus service, the popular choice being the Coasthopper for easy touring of the North Norfolk Coast. Buses also run from Norwich Bus Station to popular coastal towns, such as Cromer, Great Yarmouth and Lowestoft. Other Norwich bus services run from St Stephens Street and Castle Meadow connecting you to popular tourist locations like Wroxham in the Norfolk Broads or wonderful market towns such as Wymondham in South Norfolk.
Map of the North Norfolk Coast
For serious walkers we highlight on the map the North Norfolk Coast and Peddars Way which are two contrasting trails that link at Holme and Hunstanton totalling around 96 miles.
The Norfolk Coast Path is spectacular and invigorating, where it is sometimes possible to imagine you are walking on the edge of the world. We follow this 50-mile stretch of wild and magnificent coastline on the map of the Norfolk coast travelling from Hunstanton to Cromer.
The Peddars Way is 46 miles long and travels, more or less, in an extraordinary straight line through perfect Norfolk countryside from Knettishall Heath, near Thetford to Holme next the Sea on the Norfolk coast. With some fascinating and unusual flora and fauna, it is suitable for a very wide range of ages and abilities and is accessible by foot, bike and horse trekking.
North Norfolk coast
Norfolk Broads waterways map
Highlighted on the map is the magical Norfolk Broads which comprise of about 120 miles of navigable waterways – seven rivers and 63 broads, most of the latter only about 12 feet deep. Cruising on the Broads provides a feeling of peace and tranquillity – a sort of detachment from all and sundry on the land, quite unlike anything else.
Hiring a boat is easy and there are several companies to choose from, including Broads Tours or Barnes Brink Craft both located at Wroxham and highlighted on the map. Boats can be hired on single days, or longer and are available in all sorts of sizes and classes. On a full day trip you should be able to cruise from Wroxham to Barton Broad and back again with plenty of time for a lunch stop.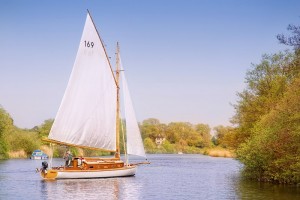 Norfolk Broads waterways
Map of where to shop in Norfolk
Norfolk has some fantastic places where you can shop, and we have included some on the Norfolk map including bustling market towns that sell all sorts of tasty local Norfolk produce and showcase the best of Norfolk's fine arts and crafts.
The historic city of Norwich boosts two shopping malls. On the map we feature the Castle Mall and Chapelfield, the quaint and quirky Norwich Lanes – independent shops full of character and charm, the colourful bustling Norwich Market and many high streets full of popular names and brands.
Other popular large shopping districts on our Norfolk map include: Kings Lynn, Thetford, Great Yarmouth, Dereham, Cromer, and Hunstanton.
Some lovely Norfolk market towns that you must visit if you have a chance include; Sheringham, Swaffham, Wymondham, Aylsham, Burnham Market and Fakenham.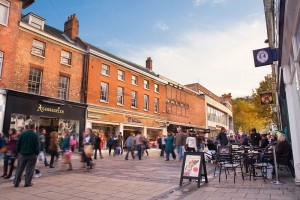 Shopping in Norwich, Norfolk